School Trips & Events 2017-2018


Easter Egg Decorating Competition
Thank you to everyone who entered our Easter Egg decorating competition. We had some truly egg-celent designs.
Well done to our winners: Ava, Skye, Liam, Eleanor, Jacob, Chase, Evie, Tom, Tylan and Olivia.
Year 5 & 6 Tag Rugby Festival
Congratulations to our year 5 & 6 Tag Rugby Team: Alfie, Sarah, Olivia, Max, Joe, Connor, Aaron, Addie, Toby & Keely who took part in the Interschool's Tag Rugby Festival held at Pewsey Vale School on Friday 23rd March.
The team work shown was a pleasure to watch with Connor and Joe scoring countless tries!
Player of the Festival goes to Connor.
Staff v Pupils Netball Match in aid of Sports Relief - Reports Written by Otter Class Pupils
Staff Vs Children Netball
On Wednesday 21st of March at eleven o'clock, Collingbourne School held a netball match to raise money for Sport Relief. It was Kingfishers Class against the staff.
Tom, aged eight, said "The teachers looked very funny in their netball kit ". Ty, aged ten, said "Mr Morgan looks like spider man!" Most of the children said it was great fun!
It was a warm, sunny day. Both teams had to substitute players. First, Jett grazed his knee and was taken off the pitch. Sarah came on instead. Mrs Jerrard then landed on her wrist and broke it. We all hope Mrs Jerrard gets better soon. The score was very close but, unluckily for the children in Kingfishers, the teachers won by one point!
Dominic Colquhoun
The Goal was to Have Fun
On Wednesday the 21st of March, Kingfishers and the staff held a netball tournament. The Kingfishers and staff played while the rest of the school watched. The event took place on the Collingbourne School playground. We did it for Sport Relief, but sadly we didn't see it on TV. It was a netball game with years 5&6 (also known as Kingfishers) and the staff.
Before the match, some of the children handed in 50p for a flag. This money went to charity. It was a very good day to hold the match on, because the sun payed a very long visit. Sadly, around half way through the match Mrs Jerrard fell over and broke her wrist. Before that though, Jett fell over and his knee started to bleed. In the end, the score was 6-5 to the teachers. Miss Sibun said "The teachers were playing their hardest and the Kingfishers were just one point behind." Amelia said "It was a crazy game but I'm happy that the teachers won".
It was an amazing game to watch and to take part in. Everyone had fun!
Carys Collinson
World Book Day
We celebrated World Book Day on Tuesday 6th March with a whole school Pirate theme. Miss Sibun started the ball rolling back in February by setting two Pirate themed competitions.
Congratulations to Florence who was the winner of the draw/paint or make a model of a pirate competition and to Carys who was the winner of the short pirate story competition.
We also held a costume competition on Tuesday. Well done to our runners up Elizabeth, Oakey, Ennis and Liam and to our overall winner Amy.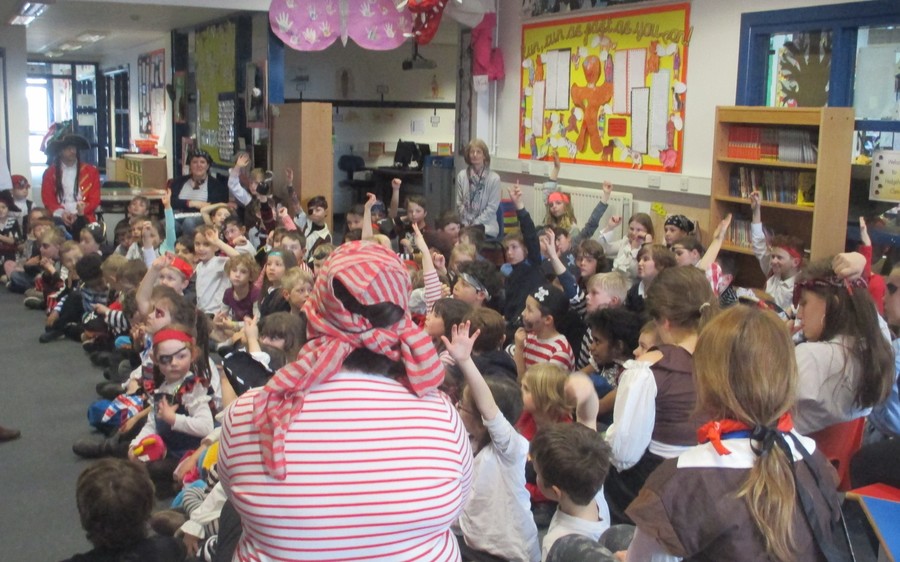 Author Experience with Debi Evans
As part of our World Book Day celebrations we had an Author Experience afternoon with local author Debi Evans. Debi talked to the children about how she became an author and the inspiration behind her books. Debi kindly stayed after school to sign and dedicate copies of her books.
To find out more about Debi and her amazing book, why not visit her web page www.debievans.com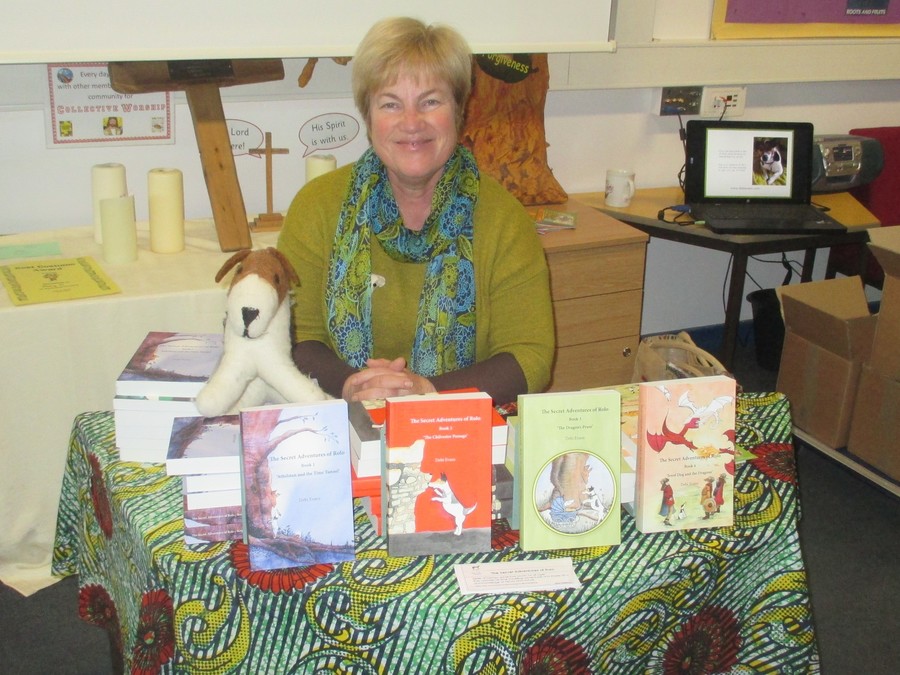 Pancake Races
The children took part in belated Pancake Day races on Tuesday 20th February, as Shrove Tuesday fell within half term.
A big thank you to Rev Jo and her helpers from St Andrew's Church Tish, Sue, Anne, Mr & Mrs Price and Mrs Read who came into school to help with the races and then made us all a tasty pancake.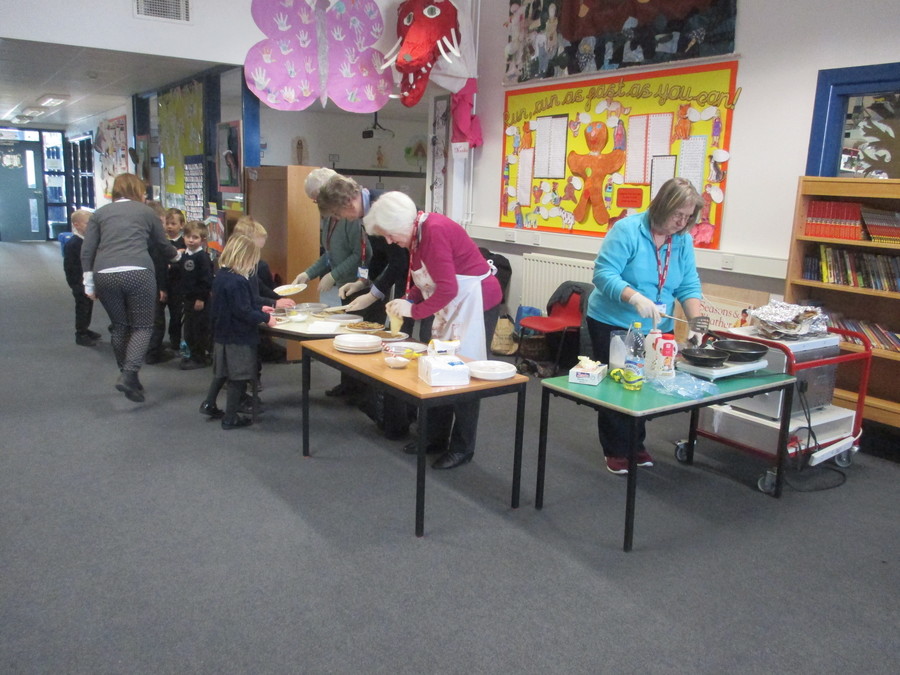 Year 5 & 6 Hockey Festival
Congratulations to our year 5 & 6 Hockey Team: Joe, Alfie, Toby, Keely, Sarah, Katie, Addie & Tylan who took part in the Interschool's Hockey Festival held at the Wellington Academy on Wednesday 7th February.
Every member of the team really played their heart out and their teamwork and sportsmanship was a pleasure to watch.
The team came second in their group narrowly missing out on a place in the semi-finials.
Player of the Festival goes jointly to Joe and Katie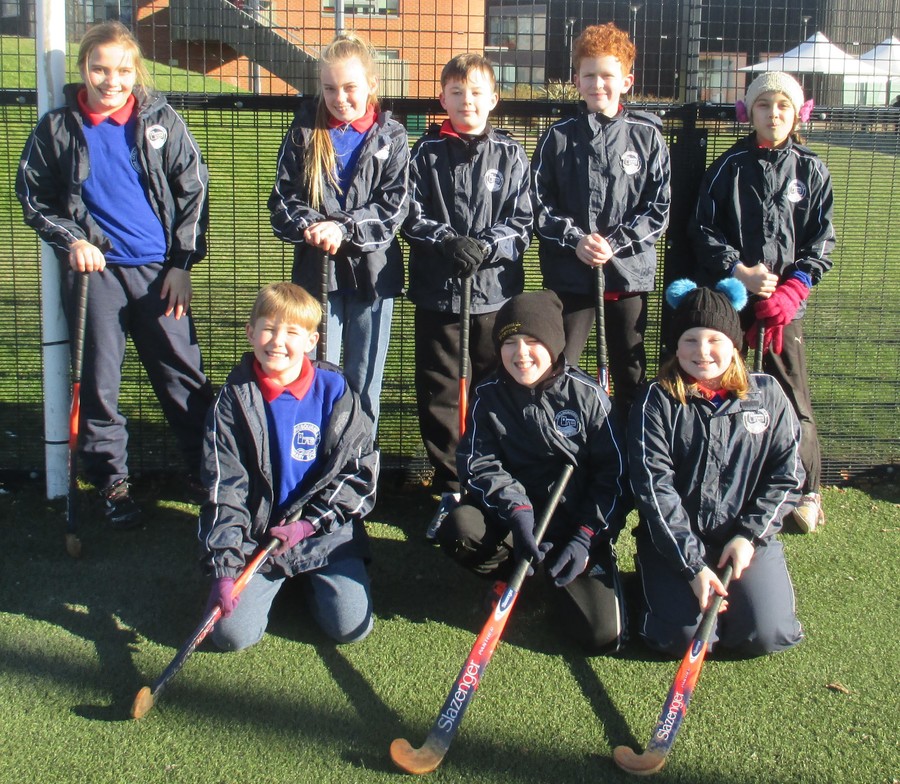 Wiltshire Fire & Rescue Service
Our Hedgehog and Kingfishers class children had a visit from the Wiltshire Fire and Rescue Service, who talked to them about the importance of fire safety and what to do in the event of a fire.
Harry Potter Night
Our 30 young Witches & Wizards were transported through Platform 9 ¾ to enter Collingbourne School for Witches and Wizards for a night of Harry Potter fun on Thursday 1st February.
The main hall was transformed with floating candles, magical flying letters and mystical creatures. The children were sorted into their houses to take part in the Diagon Alley treasure hunt. They then settled down with sweets and popcorn to watch Harry Potter and the Chamber of Secrets.
Archdeacon Visit
We were very lucky to have a visit from Archdeacon Sue last week. She took a tour around the school to meet all the children and then led our worship which included teaching the children some new actions for the Lord's Prayer.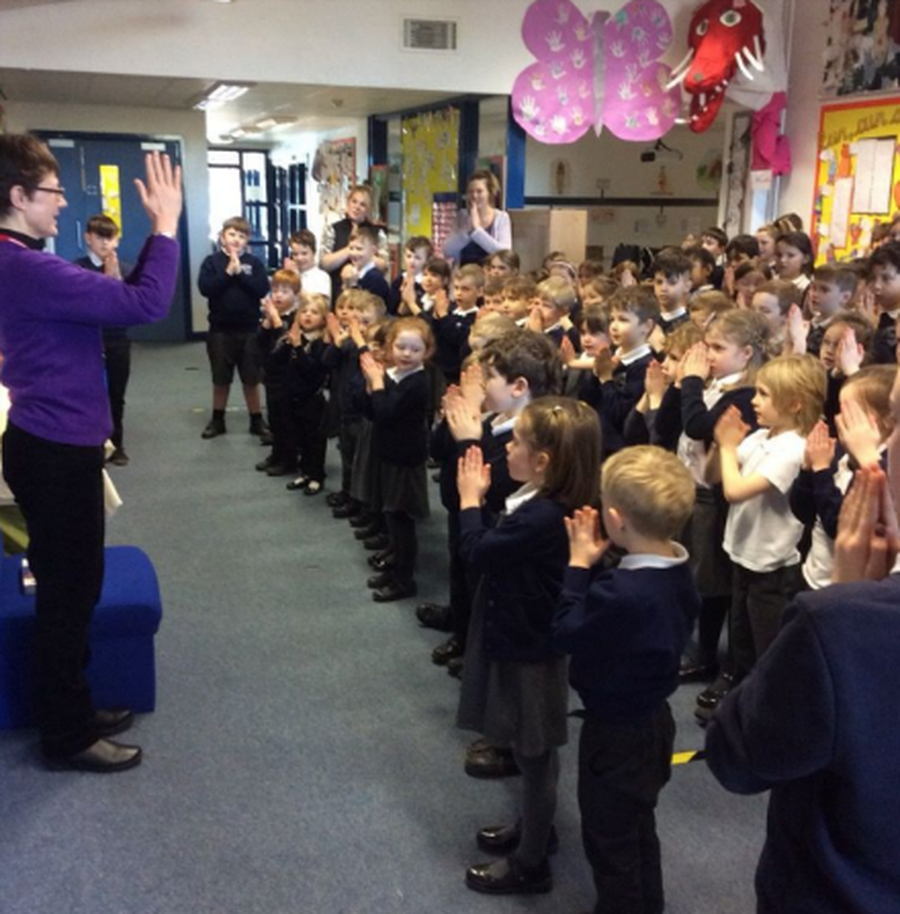 Panto
M & M Theatrical Productions come to Collingbourne on Thursday 11th January. We were delighted that our children had the opportunity to watch a pantomime, which was funded by our wonderful PTA with money raised from The Glitter Ball.
The children's enjoyment was clear to see: especially when Mrs Malley, Mrs Stevens and Mr Morgan were called upon to take part in a dance number!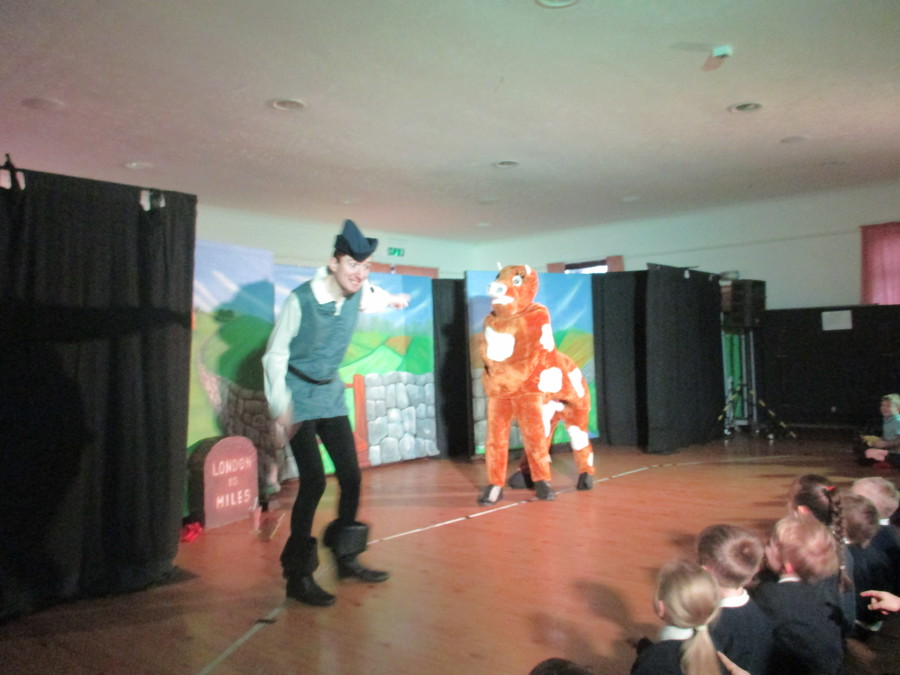 Whole School Carol Service @ St Mary's Church
The whole school were coached down to St Mary's Church in Collingbourne Kingston for our annual Carol Service.
Bun & Penny visit to Court Farm
The whole school made our way down to Court Farm to take part in the ancient bun and penny tradition.
Every year the pupils kindly receive a bun and shiny new penny on the day they break up for Christmas. The bun and pennies have been handed out by the Gordon Family at Court Farm next to the village church form more than 35 years. But the tradition goes back much further, to 1850, when old records state that the village rector, Rev Charles Francis first gave each of the children at the village school a penny and a bun.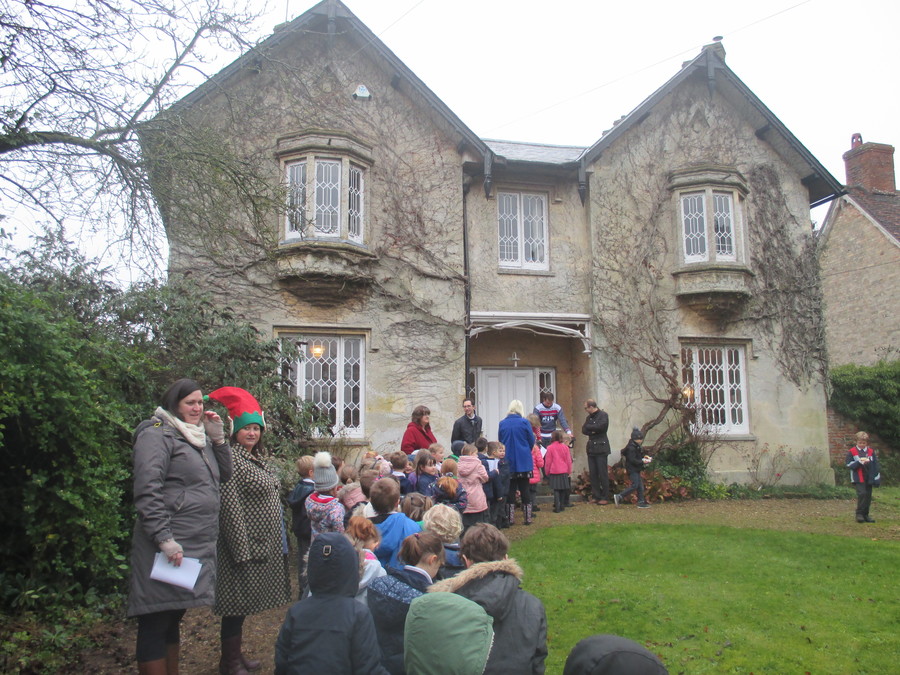 Christmas Jumper Day
We took part in the Save the Children Christmas Jumper Day on Friday 15th December. Staff and pupils paid a £1.00 donation to wear their Christmas jumpers.
The day raised £60.00 for Save the Children.
Nativity Play
Well done to our Key Stage 1 children who put on a fantastic performance of " A King is Born"
Whole School Christmas Lunch
We had our whole school Christmas lunch on Wednesday 13th December. Thank you to Sue Brady Catering for providing such a lovely lunch.
Christmas Fair
Our Christmas Fair on Tuesday 12th December was a huge success and hopefully got everyone feeling very Christmassy.
Wiltshire Walk Safe Visit
Walk Safe, is Wiltshire's own child pedestrian training scheme, to meet the needs of school children living and travelling to school in Wiltshire.
As part of the Council's sustainable travel agenda, the emphasis is upon encouraging children to walk, scoot or cycle to school rather than use the car, 'Walk Safe' supports schools in their involvement with the Wiltshire Healthy Schools Programme making sure children receive sound pedestrian training and are able to experience traffic and roads in a controlled environment; helping them to become safe independent road users.
Netball Festival
Congratulations to our Netball team Alfie, Connor, Tylan, Joe, Claudia, Sarah, Lily and Addie who took part in the Interschools Netball Festival held at The Wellington Academy on Wednesday 22nd November. The whole team played amazingly and came 7th overall in their group.
Player of the Festival goes to Tylan who showed fantastic sportsmanship on and off the court.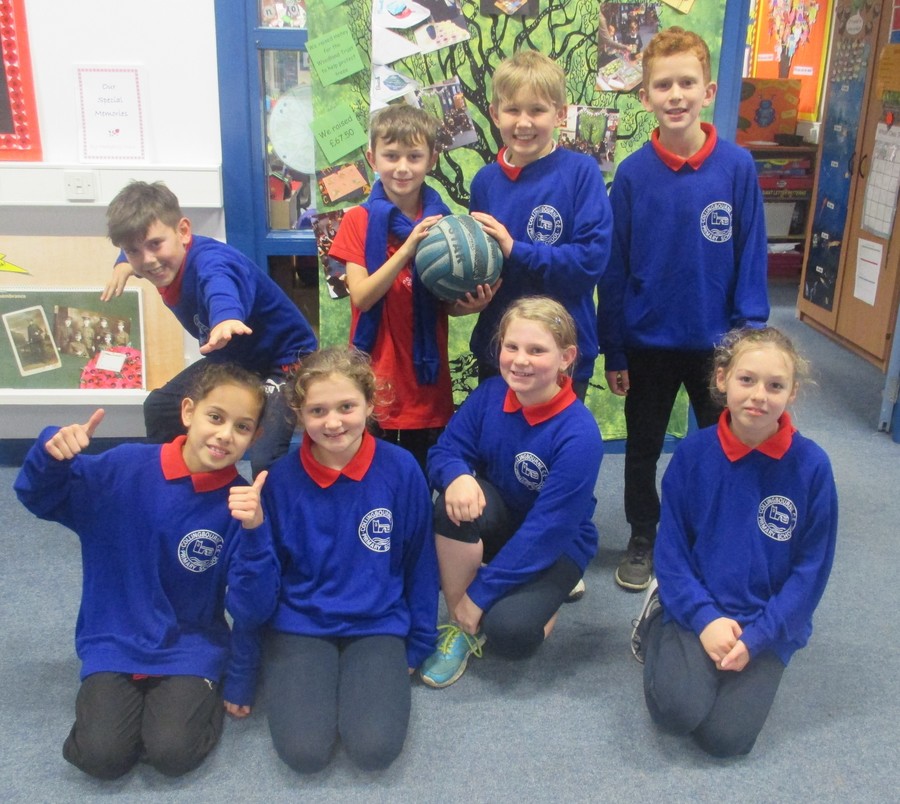 Bee & Otter World War 2 Day
As part of this terms topic our Bee and Otter Class children took part in a WW2 day on Tuesday 21st November. The children, class teachers and TA's came dressed up as WW2 officers, land girls & evacuees. The children were given WW2 names and made ID badges. They also made their own individual WW2 Anderson shelters.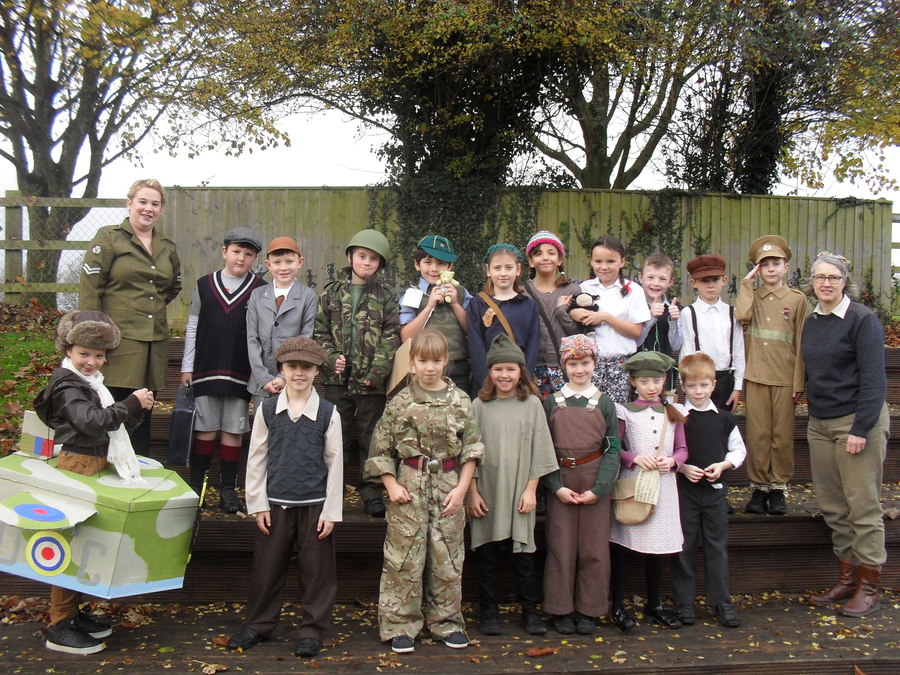 Children in Need - Marvellous Maths Day
On Friday 17th November we combined celebrating maths with raising money for Children in Need!
Last year we introduced our Marvellous Maths targets and our superhero children have been working very hard to improve their addition, subtraction, multiplication and division facts. So, thank you very much children and parents for working so hard at home.
To celebrate we had a dressing up day and a special assembly where we celebrated our superheroes. We invited the children to bring in a £1 donation to Children in Need and dress up as either Superheroes, someone who uses maths in their job, a famous mathematician or an aspect of maths.
The children and staff had a super fun day and raised £104.00 for Children in Need.
Remembrance Day Service
The whole school made their way down to the Collingbourne Ducis Memorial for 11am to remember that, on the 11th November 1918, World War One ended. To commemorate this, a two minute silence was held followed by the names of the brave men who fell in both World Wars being read aloud. Rev Jo brought the service to an end with the Remembrance Prayer in which the children recite the worlds "we will remember them" making a promise not to forget all those who gave their lives in service.
World War 2 Evacuee Day
Our Kingfisher class children were transformed into World War 2 evacuees and spent the day taking part in a range of activities to help them develop their understanding of what it was like being a child during the second World War.
Crazy Clash Day in aid of Stand up to Cancer
We supported "Stand up to Cancer" on Wednesday 18th October. To make the day we held a crazy Clash Day, where we invited staff and pupils to go crazy and wear their most clashing outfit for a £1.00 donation. The day raised £106.44 for Stand up to Cancer.
PTA Monster Mash Family Disco
A big thank you to everyone who came along to the Monster Mash Disco. There were some truly amazing costumes, pumpkin carving creations and frightening moves on the dance floor. £542.05 is the fantastic amount that was raised.
Football Festival
Congratulation to our mixed year 3/4 football team: Zhion, Joshua B, Carys, Dominic, Tevez, Harley, Leo, Darcie, Eleanor and Tom who took part in the Interschool's Football Festival held at Avon Valley College on Thursday 12th October. The whole team played amazingly and come 3rd overall in their group.
Player of the Festival goes to Zhion who showed fantastic sportsmanship on and off the pitch as well as scoring a winning hat-trick.
Invite a Tree to Tea
Mrs Stevens, Mrs Pardoe and our Hedgehog class children ran cake and juice stall during morning break to raise money for the Woodland Trust. Unfortunately the weather wasn't on our side so the children couldn't sit outside under the trees. But luckily the ever resourceful Mrs Stevens brought the tresses inside instead.
Coffee & Cake Morning
Mrs Malley. Mrs Wyatt, Mrs Perry and our Fox Class children hosted a coffee and cake morning in aid of Macmillan Cancer Support. The morning raised £61.42.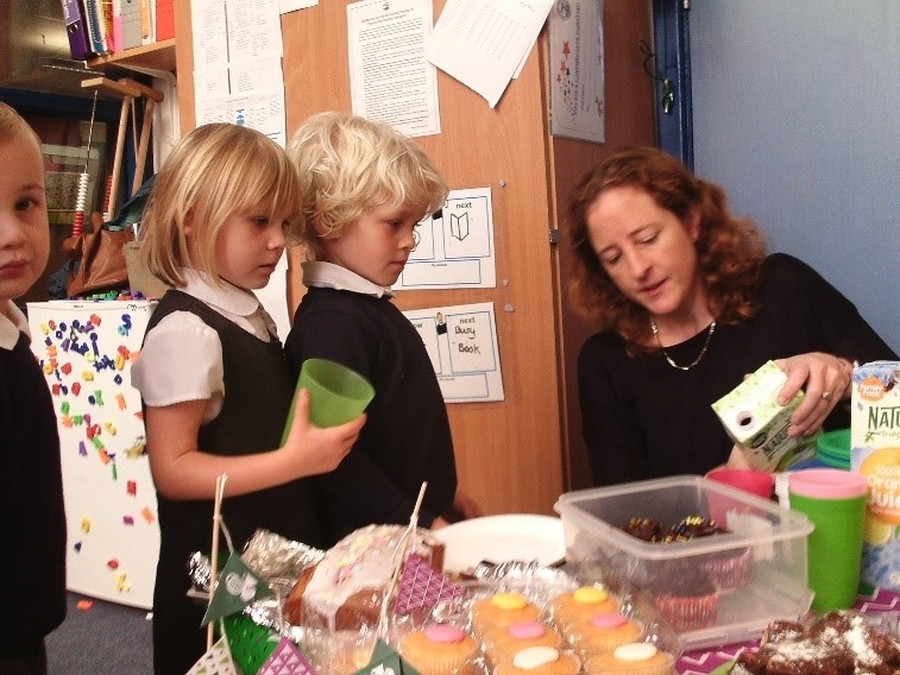 European Languages Day
We celebrated European Languages Day on Tuesday 26th September. Each of our classes adopted a different European country and spent the day learning all about their culture and language. The children also got to try some very interesting food including Octopus.